The Original Gay Porn Community - Free Gay Movies and Photos, Gay Porn Site Reviews and Adult Gay Forums
Bentleyrace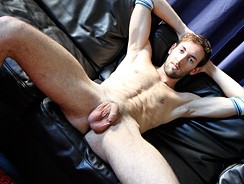 JUB Site Rating:
0 total vote







The site is simple yet colourful and has a fun feel to it but it's not amateur, he's worked hard on this site and it deserves a decent investigation. There are two parts to the site, the galleries and the video arcade. For video entertainment you have 230 movies that you can download and stream. You will be asked for your login information each time you stream so check the 'save password' box the first time to save you doing it every time. The videos are arranged in sections: Solo, Action with Ben, Action my mates, Outdoors action and Pissing but there is also a show all function if you want to browse them page by page.

Ben gets up to just about everything you can imagine. Watch him shave his cock and balls, see him take a shower and bust a nut or simply watch him jack off in army gear. There are even some self-suck videos and some that involve bondage gear so I get the impression that Ben just loves his sex, in any form or style that he can find it. Whichever one you view you'll be impressed with his good looks, juicy cock and natural style. His mates get up to all kinds of hot action too and there are hours of sucking and fucking videos, some wresting leading to full on sex, some outside by the pool and loads of indoors shoots. These guys are the kind of bois we like to see; smooth twinks and hairier hunks fill the screen with their impressive dicks and willing asses. Ooh, I just love it!

Back on the home page you will find eight galleries. There are actually more that that as each page has 16 galleries. (I'll do the math: 128.) There are solo sets with the hunky Aussies showing all and there are action sets too. The images are a good size and quality and the whole thing is a treat to view. You have to remember that these guys are just ordinary men that Ben has found, some of them have never appeared naked in front of a camera before but you wouldn't know it. Because of that the sex scenes have a good reality feel to them and due to the basic filming techniques you get to feel like a voyeur, it's almost as if you are there with them.

Also in the members' area, and in the free part actually, you'll find a page telling you all about Ben and there's a page where you can find out how you can become a Bentley Race model. If you're in his part of the world that sounds like an invitation to have some great sex and earn money at the same time.

Bottom Line:
I get the impression that we will be seeing a lot more of Ben over the coming months and years. He's gone from being just another blogger to having his own good quality porn site in a short period of time and it is fast becoming a cult. His movies are very watchable and have a nice, reality feel to them. There is nothing pretentious and no over-blown promises or claims. It's simply Ben and his buddies having a great time and sharing it with you.
There are 3 comments on this review
I'd be more than willing to spend every penny on Josh Harris. The other model? Pretty so so.

Reply

Very hot boys, great to see local cock on the net

Reply

just crap, shitty twinkie boys that get around melbourne fucking and sucking anyone beats parks and sex parties you will find most of the guys on bentley race at them BBing and just dirty dudes.



Reply
Login here to add your own comment:
Do not have a free account yet?
Stop dicking around and sign-up!
Lost password?